Falcon030 clock patch module
15.00€
A clock-patch module for Atari Falcon030 computer, with probably least complicated installation possible.
In stock (can be backordered)
Description
Final assembly in your Falcon030 requires basic (de)soldering skills and common soldering equipment.
Difficulty 5/10
desolder R216, R221 and R222 resistors
remove C208 capacitor (this one is located on bottom side of Falcon mainboard, below Combel chip)
remove U63 IC from its socket and insert clockpatch module instead. Make sure you match pin 1 of socket with pin 1 (as marked) of the module socket insert. Check product pictures, if in doubt.
plug U63 IC to the socket on top of clock patch module. Again, match pin 1 of the module socket and pin one of IC.

solder input and output  (IN, O1, O2, O3) lead wires to the corresponding pads of previosly removed resistors, according to following schematic: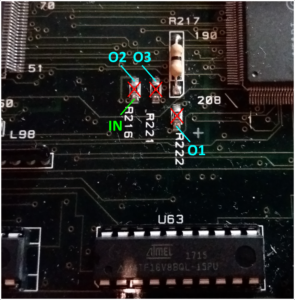 ---
Optionally, "CT60" solder pad on the module can be used to conveniently connect CT60 bus doubler to U63 (pin8). Please consult "
CT60 Fitting With Solders
"guide for more information on the topic.
---
Additional information
| | |
| --- | --- |
| Weight | 30 g |
| Dimensions | 3 × 3 × 2 cm |
Only logged in customers who have purchased this product may leave a review.